Madi DiDomenicantonio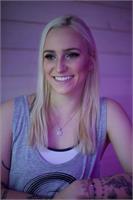 Madi was born in Winnipeg, Canada before she moved to sunny So Cal! She fell in love with spinning at 14 and starting teaching spin & yoga at 19. She fell in love with the combination of mental, spiritual and physical health benefits both have to offer. You can expect a fun, challenging & inspiriting workout that will give you clarity and confidence to tackle the rest of the day. Whether you've had the best or worst day, you can always expect to leave Madi's class feeling loved, challenged and better than when you arrived. Music is a little bit of everything, mostly influenced by hip hop, pop and EDM!
Madi DiDomenicantonio instructs the following:
Get ready to blast fat, burn hundreds of calories, and sweat during this high intensity, low impact indoor cycling workout! We promise you'll be coming back for more!