Anne Harriger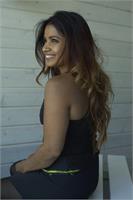 Anne is a certified Barre and Yoga Sculpt Instructor who began teaching Group Fitness classes in 2014. She is a Pasadena native and acquired her A.A. degree in Fashion Design from The Fashion Institute of Design & Merchandising (FIDM), Los Angeles in 2008. She developed her love and passion for living an active lifestyle while she was in college because she found that it helped her relieve stress from spending long hours in the design room. By the time she graduated she had already traded her stilettos for sneakers.
The strong connection between the body and the mind is what inspired her to teach barre. Anne is not your traditional barre instructor, she uses a combination of cardio and dynamic strength training to get your heart pumping and sculpt your body to the core! Her fitness experience includes CrossFit, kickboxing, high-intensity interval training (HIIT), personal training, Olympic weight-lifting, Pilates, yoga and barre. No matter where you are in your fitness journey Anne is dedicated to helping you become a better, stronger version of yourself!
When she is not instructing her classes she can be found spending time outdoors in nature, especially hiking in the San Gabriel mountains which have always had a special place in her heart, watching The Bachelor (with a glass of wine of course) or playing with her dachshunds, Raven and Robin!
Anne Harriger instructs the following:
Rev's High-Intensity Interval Training (HIIT) mixes short bursts of intense activity with even shorter periods of rest, allowing your body to burn more calories in less time! Win-win, right? Our Rev HIIT Circuit classes combine the total body workout of TRX, the muscle-building of light weights, the agility of boxing, and the endurance of cardio. This high calorie-burning, flexible workout will push your body to the max in a minimal amount of time.




Work the middle 'til it hurts a little! Using small, isolated movements, this class works your core, obliques and arms, building strength with very low impact while creating leaner muscles. Focusing on proper posture and body alignment, this class increases stability and overall muscle tone. Classes include a relaxing stretch series.