Kim Cuna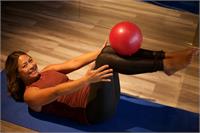 Kim Cuna instructs the following:
Work the middle 'til it hurts a little! Using small, isolated movements, this class works your core, obliques and arms, building strength with very low impact while creating leaner muscles. Focusing on proper posture and body alignment, this class increases stability and overall muscle tone. Classes include a relaxing stretch series.




All levels welcome.

Rev CORE combines the basis of Pilates with low-impact flexibility movements and increased endurance building to burn away that pesky fat, leaving you with toned, sculpted, lean muscles. This mind-body workout strengthens and tones, while also focusing on proper posture and body alignment to build stability and adaptability. It's the perfect workout for anyone looking to burn fat without building bulk! NOTE: Grip socks are required for this class.