Alison Herschberg Williams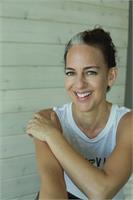 A former ballerina from Seattle and a proud Eagle Rock-er, Alison is all about the musicality of the ride. In and out of the saddle the beat drives your feet, helping you crush your fitness goals with every pedal stroke. Off the bike, Alison can be found brainstorming marketing campaigns, raising two amazing girls with her husband, and digging deep to find the perfect tune for tabatas. Kick off your day with an early-bird endorphin blast and join the bike party!
Alison Herschberg Williams instructs the following:



Get ready to blast fat, burn hundreds of calories, and sweat during this high intensity, low impact indoor cycling workout! We promise you'll be coming back for more!