Octavia Sisley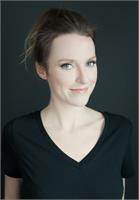 Octavia loves to teach a high energy, fun, and rhythmic class. She is also a big throwback fan, so you can count on some good tunes from the 80s & 90s in her playlist on occasion. She lives in Eagle Rock with her 3 cats (yes, 3!) and spin has always been her favorite stress reliever, so count on walking out of her class stronger and decompressed!
Octavia Sisley instructs the following:
All levels welcome.

You can burn calories and tone muscle with our Rev Total Body Resistance Exercise (TRX)-based class! This Navy SEAL-founded workout uses the suspension of two straps to utilize the force of gravity against your own body weight to build strength, balance, flexibility, and core stability. No machines or dumbbells needed! By hitting every major muscle group, taxing your core, and sweating out your body's toxins in this low-impact, total body workout, you'll leave class feeling challenged, energized, and refreshed.

Please note: Tennis Shoes REQUIRED for this class.




Get ready to blast fat, burn hundreds of calories, and sweat during this high intensity, low impact workout! We promise you'll be coming back for more!




Join our spring fling event in support of Rescue Train! All rides are donation based and there will be a raffle, silent auction, vendors and more! Rescue Train is a unique, 501(c)3 non-profit, no-kill organization dedicated to eliminating animal suffering and euthanasia through hands-on rescue work, dedication to spay/neuter, education and awareness.