Katie Horning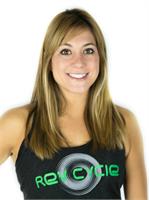 Katie is from Ohio and grew up doing gymnastics, soccer, and running. After moving to Los Angeles she discovered new ways to enjoy working out was hooked after her first cycling class! She has been a cycling instructor for four years and also teaches Pilates as well as Lagree Fitness. You can count on her to give you a challenging workout, while helping encourage you to do your best by staying positive. Her high-energy and vocal attitude mixed with upbeat playlists will help to get you feeling good and fit in no time!
Katie Horning instructs the following:
Get ready to blast fat, burn hundreds of calories, and sweat during this high intensity, low impact indoor cycling workout! We promise you'll be coming back for more!




All levels welcome.

Rev CORE combines the basis of Pilates with low-impact flexibility movements and increased endurance building to burn away that pesky fat, leaving you with toned, sculpted, lean muscles. This mind-body workout strengthens and tones, while also focusing on proper posture and body alignment to build stability and adaptability. It's the perfect workout for anyone looking to burn fat without building bulk! NOTE: Grip socks are required for this class.